Unisba Electronic Journal or is an online journal settings and system publications issued by the Universitas Islam Bandung. The portal was built and developed by UPT Publikasi (Publishing Center of Unisba)  for the benefit of interconnect resources and scientific work as an effective tool in disseminating information to the whole society, especially academics and researchers. This service is provided free of charge and intended as a medium of dissemination of scientific articles that can be accessed by the public and is expected to be a positive contribution to science in the wider community. Scientific Publication is expected to create a forum for communication and open discussion space for researches in the field of science concerned.

This system has been set up for anyone who can register themselves through the system to get an account and paswordnya and send the article to be indexed.


_____________________________________________________________________________________________
ACCREDITATION

SINTA 2
ACCREDITATION
SINTA 3
ACCREDITATION

SINTA 4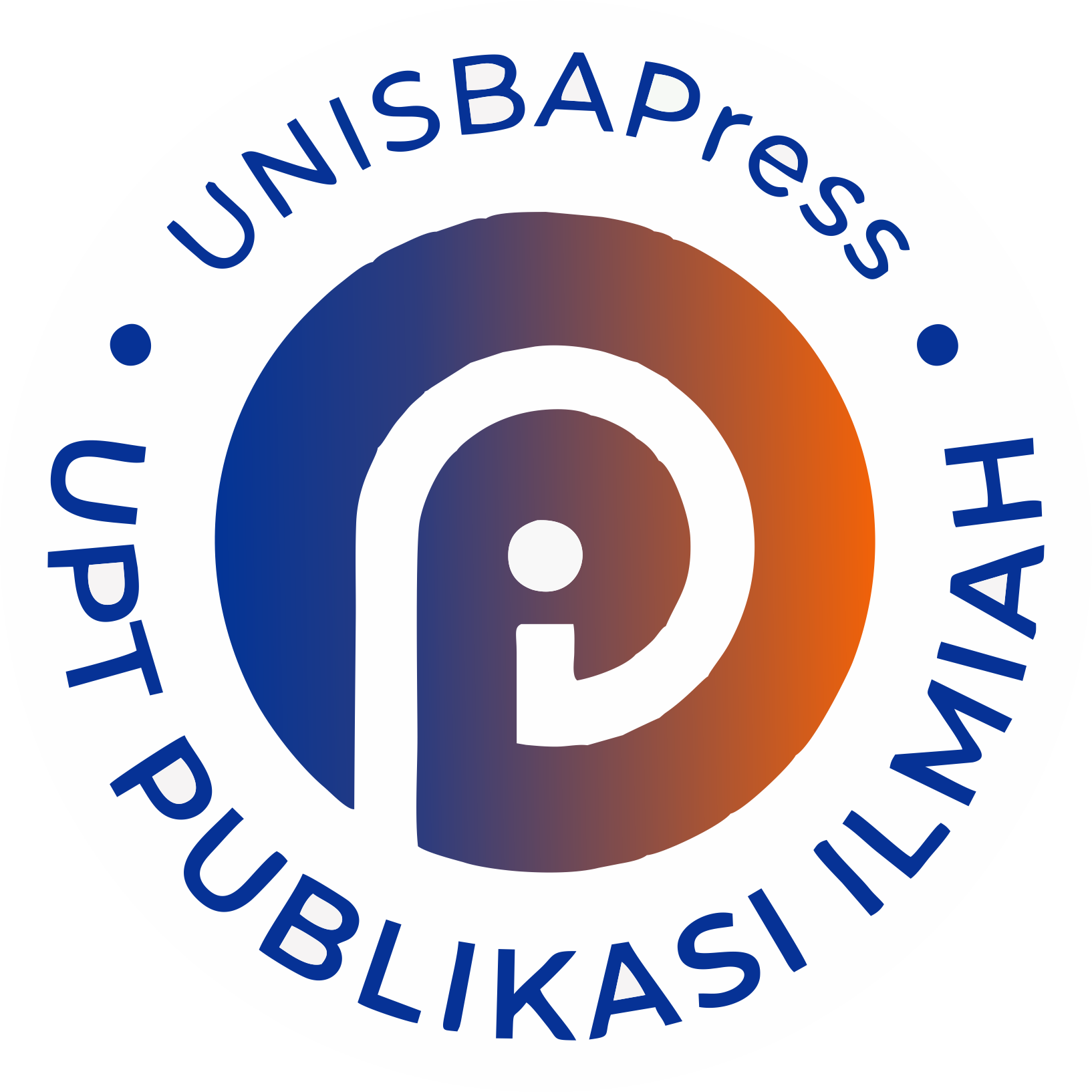 Jurnal Unisba Yang Terakreditasi dan Masa berlakunya
________________________________________________
Address OAI: http://ejournal.unisba.ac.id/index.php/oai 
A B C D E F G H I J K L M N O P Q R S T U V W X Y Z All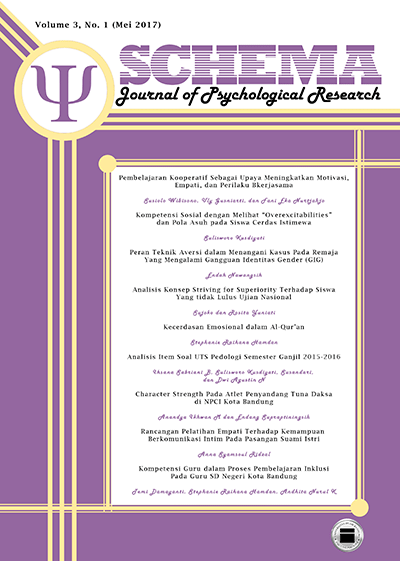 Schema: Journal of Psychological Research
Schema : Journal of Psychological Research (EISSN 2581-0731 | ISSN 2581-0723) is a peer reviewed journal published two times a year by Universitas Islam Bandung. The aims of Schema is to diseeminate the conceptual frame and ideas or research related psychology in general.

Schema : Journal of Psychological Research publishes academic research articles on theoretical and applied studies and focuses on Psychology with the following scope: Broken Home, Organizational Culture, Celebrity Worship, Delinquency, Early Adulthood, Work Discipline, Social Support, Health belief, Parasocial Interaction, Early Childhood Independence, Maturity Career, Job Satisfaction, Organizational Commitment, Obesity, Parasocial Relationship, Peak Performance, Character Education, Self Adjustment, Marriage Adjustment, Parenting, Learning Achievement, Psychological Well-Being, Religiosity, Late Adolescence, Self Esteem, Self regulation, Ta'aruf . This journal is published by UPT Publikasi Ilmiah UNISBA. Articles submitted to this journal will be processed online and using a double blind review by at least two reviewers.
View Journal | Current Issue | Register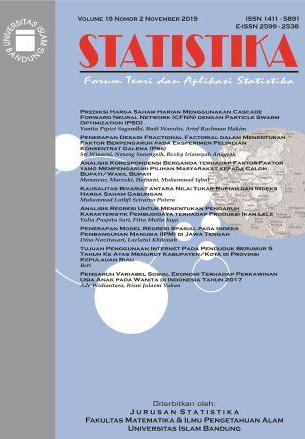 STATISTIKA
STATISTIKA published by Department of Statistics, Faculty of Mathematics and Natural Sciences, Bandung Islamic University as pouring media and discussion of scientific papers in the field of statistical science and its applications, both in the form of research results, discussion of theory, methodology, computing, and review books. Published biannually in May and November each.
E-ISSN : 2599 - 2538 | ISSN : 1441 - 5899
View Journal | Current Issue | Register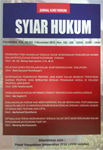 Syiar Hukum : Jurnal Ilmu Hukum
Syiar Hukum: Jurnal Ilmu Hukum is an academic law journal published  two times  a year by Faculty of Law, Universitas Islam Bandung (UNISBA). Since February 2020 editorial board decide to change publication period from March and September to June and December. 
Syiar Hukum: Jurnal Ilmu Hukum is an open access and peer-reviewed journal that aims to offer an international academic platform for legal research. These may include but are not limited to various fields such as civil law, bussines law, criminal law, constitutional and administrative law, customary institution law, religious jurisprudence law, international regime law, legal pluralism governance, and another section related to contemporary issues in legal scholarship. 
The accepted articles will be available online following the journal peer-reviewing process. Language used in this journal is English.   
Authors are invited to submit manuscripts that fall within the scope of the Syiar Hukum: Jurnal Ilmu Hukum. Please read the information on the peer-review process. The articles published in Syiar Hukum: Jurnal Ilmu Hukum are going through a double-blind peer-review process. Hence, the decision on whether the scientific article is accepted or not, will be the Editorial Board's right based on the peer reviewer's recommendation.
Please read and understand the author's guidelines for the preparation manuscript. The author who submits a manuscript to the editors should comply with the author's guidelines and template. If the submitted manuscript does not comply with the guidelines or using a different format, it will be rejected by the editorial team before being reviewed. The editorial team will only accept a manuscript that meets the specified formatting requirements.
View Journal | Current Issue | Register
1 - 3 of 3 Items