The Global Medical and Health Communication is a journal that publishes medical and health articles since 2013. Articles are original research that needs to be disseminated and written in English. 
In not so long time, Global Medical and Health Communication published by Faculty of Medicine, Universitas Islam Bandung have already accredited by Ministry of Research, Technology and Higher Education of the Republic of Indonesia Number 30/E/KPT/2019 valid for 5 (five) years from Volume 7 Number 2 with Sinta (Science and Technology Index) Score is S2. It's also indexed in Directory of Open Access Journals (DOAJ) on 9th May 2017 and Crossref on 2nd January 2018, with DOAJ and Crossref indexing this journal are able to reach international audiences. This achievement received positive responses from researchers, lecturers and health observers alike showed by articles submitted which are triple compare to the number of articles received in its early time. The quality of the articles also show improvement both in methodology and written that will be beneficial for audiences. Research findings were best to disseminate as early as possible so they can be used properly. To support these Global Medical and Health Communication publication which was every 6 (six) months in a year will publish every 4 (four) months in one year starting from 2017.
The news from science and health about challenges and opportunities in Indonesia is still very quiet that Global Medical and Health Communication hopes to become the best means to support researchers, lecturers, and health practitioners to become the voice of Indonesia, especially in health.  pISSN 2301-9123 | eISSN 2460-5441.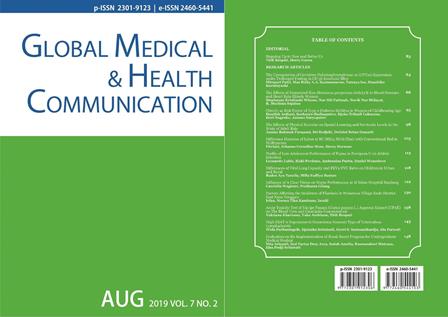 Vol 9, No 3 (2021)
DECEMBER 2021
Table of Contents
Articles
| | | |
| --- | --- | --- |
| | Siska Nia Irasanti, Yuniarti Yuniarti, Yuli Susanti, Yani Dewi Suryani, Revika Ilma Nurul Uswah, Risya Farisatul Aini, Novita Arya Cahyani, Hilal Muhammad Dimas Nugraha, Muhammad Mufti | 171–176 |
| | | |
| --- | --- | --- |
| | Fedri Ruluwedrata Rinawan, Ilma Dina Arrahmah, Didah Didah, Nelly Dameria Sinaga, Ari Indra Susanti, Rima Kusumah Dewi, Atriany Nilam Sari | 177–184 |
| | | |
| --- | --- | --- |
| | Pepi Budianto, Stefanus Erdana Putra, Muhammad Hafizhan, Fauzi Novia Isnaening Tyas, Astrida Fesky Febrianty, Hanindia Riani Prabaningtyas, Diah Kurnia Mirawati, Rivan Danuaji, Subandi Subandi | 185–192 |
| | | |
| --- | --- | --- |
| | Suci Nugraha, Elizabeth Kristi Poerwandari, Dharmayati Utoyo Lubis | 193–201 |
| | | |
| --- | --- | --- |
| | Shenny Dianathasari Santoso, Uni Gamayani, Asep Nugraha Hermawan, Pandji Irani Fianza, Aih Cahyani, Lisda Amalia, Yusuf Wibisono, Ramdan Panigoro | |
| | | |
| --- | --- | --- |
| | Herry Garna, Dika Rifky Fernanda, Gibran Bramasta Dirgavansya, Heru Haerudin, Zulmansyah Zulmansyah, Samsudin Surialaga, Lelly Yuniarti | |
| | | |
| --- | --- | --- |
| | Novita Ayu Indraswati, Ma'mun Sutisna, Achmad Suardi, Hidayat Wijayanegara, Leri Septiani, Herry Garna | |
| | | |
| --- | --- | --- |
| | Esther Palupi, Yuyun Yueniwati, Alfrina Hany | |
| | | |
| --- | --- | --- |
| | Nurul Romadhona, Susan Fitriyana, Ganang Ibnusantosa, Titik Respati | |
| | | |
| --- | --- | --- |
| | Miranti Kania Dewi, Siti Annisa Devi Trusda, Lelly Yuniarti | |